I have a neon green shirt that states "I dig the Homeless Garden Project" I usually wear it on Saturdays and fortunately I now have an event to wear it to...
Event Description


Sustain Supper benefiting The Homeless Garden Project
The Homeless Garden Project's annual Sustain Supper Series is back!
Join us on our organic farm for a gourmet 4-course dinner prepared by exceptional chefs and engaging talks by renowned speakers.
---
Announcing our keynote speaker:

Secretary

of

the California Department

of

Food and

Agriculture, Karen Ross!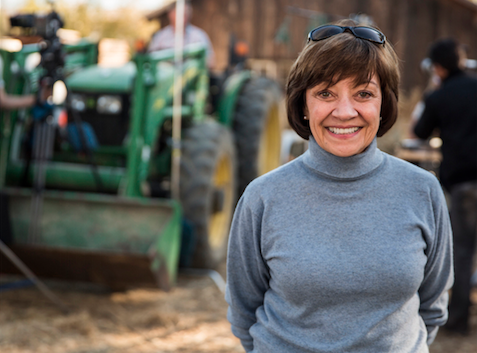 "Secretary
Ross is passionate about fostering the reconnection
of
consumers to the land and the people who produce their food, and to improving the access
of
all California citizens to healthy, nutritious California-grown
agricultural
products, celebrated for their diversity and abundance in serving local, national and global markets." (
CDFA
)
---
Savor the evening with our featured chefs!

Top Left: Sarah LaCasse, Top Right: Gema Cruz, Bottom Left: Brad Briske, Bottom Right: Yulanda Santos.
Gema Cruz is Head Chef for Gabriella Café in Santa Cruz. Chef Cruz has held a number of positions over her 20 year tenure at Gabriella Cafe, most recently as the restaurant's sous chef. Chef Cruz came to Santa Cruz twenty-eight years ago from a small village just beyond Oaxaca City, Mexico; learning her skills and craft from her grandmother. Chef Cruz is famous for her rich, complex sauces, perfectly seared fish, house-marinated anchovies that tops crispy fresh greens. Chef Cruz is both an efficient and effective manager, as well a creative culinary talent.
Sarah LaCasse is Executive Chef at Earthbound Farm. She sets the "taste and tone" at Earthbound Farm's Carmel Valley Farm Stand Market & Organic Café, home to one of the nation's first certified organic kitchens. She is also intimately involved in developing new products and recipes for the company, which has grown since 1984 to become the nation's leading organic produce company. Sarah joined Earthbound Farm in 2006 with 23 years' experience in kitchens ranging from a small neighborhood bistro to a world-class metropolitan hotel. She's opened restaurants, managed retail operations and run her own catering business; there's little about food—or the food business—that Sarah hasn't mastered. She contributed over 150 recipes to The Earthbound Cook cookbook, for which she tasted and tested all of the recipes.
Brad Briske is Executive Chef for La Balena and il Grillo restaurants in Carmel-by-the-Sea. As a chef he is known for sourcing fresh, local and nearly always organic ingredients from the Monterey Bay presenting a menu focused on hand-made cuisine. Brad, his recipes and both restaurants are mentioned in Food & Wine Magazine, The San Francisco Chronicle, The Monterey Herald, Edible Monterey Bay and the Monterey County Weekly.
Brad graduated from the Natural Gourmet Institute in Manhattan in 2005 and continues to make honest and lovingly prepared food with the goal to serve his customers as if they were eating at his home with his family. Before connecting with Anna and Emanuele Bartolini, he worked with the Monterey Bay community at Gabriella Café in Santa Cruz and contributed to the opening of Main Street Garden in Soquel.
Brad received a Local Hero award for Best Chef from Edible Monterey Bay in 2013. Under his direction, La Balena was voted "Best New Restaurant" in Monterey County Weekly and has since been voted "Best Restaurant in Carmel" and "Best Italian Restaurant" by the Carmel Pine Cone in consecutive years.
Dessert:

Yulanda Santos, Aubergine


Chef Yulanda Santos is currently Pastry Chef at Aubergine in Carmel, California. After several years in the banking industry, Yulanda Santos decided to follow her passion for baking. Chef Santos went to Tante Marie's Cooking School in San Francisco where she graduated from the baking and pastry program and she's never looked back. Her pastry knowledge expanded as she worked in many great kitchens and her passion for baking only grew stronger. Her career has brought her to the kitchens of One Market in San Francisco, Aqua and Aureole in Las Vegas, George's at the Cove in La Jolla, California, Charlie Palmer's Dry Creek Kitchen in Healdsburg, California, and, most recently, Post Ranch Inn in Big Sur. Her desserts are inspired by her surroundings and fresh produce from local farmers. Chef Santos also enjoys traveling the world to gain new experiences and bring new flavor profiles to her menu. She plans on eating her way through the world…life couldn't be sweeter.
---
The Evening's Music - Duo Caprice
Willy Juncosa and Hannah Beckham have been playing together as Duo Caprice in the Monterey Bay Area for several decades. They have performed formal concerts, corporate events, and innumerable weddings. Currently, you can find them playing at Mr. Toots Coffeeshop in Capitola, Fridays nights from 8-10pm. Duo Caprice is honored to donate their services to socially beneficial organizations, like the Homeless Garden Project.